Australian High Commission
Pakistan
High Commission Address: Constitution Ave and Ispahani Road, Diplomatic Enclave No. 1, Sector G-5/4, ISLAMABAD - Telephone: +92 51 835 5500 - Fax: +92 51 282 0112
Visas and Citizenship
Contact Us
Australian Visa Application Center for Pre-lodgment Enquires
If your enquiry is related to a pre-lodgment visa application process including how to make an appointment, or for information on the requirements to lodge a visa application, please contact the Australian Visa Application Call Center on 09000 7860 or by mobile phone on short code 9999. The call center operates Monday to Friday from 08:00am to 05:00pm. Calls will be charged at the premium rate of 15 Pakistan Rupees per minute.
Further information about the Australian Visa Application Centers is available at www.australiavisa-pakistan.com.
Visa and Citizenship Section for Post-lodgment Enquiries
The Department of Immigration and Border Protection at the Australian High Commission is only available to answer telephone enquiries relating to applications that are currently under assessment, between 08:30am to 12:00pm Monday to Thursday. The operators are unable to respond to pre-lodgment enquiries if you have not lodged a visa application at the Australian Visa Application Center.
What's new
Notice regarding online visa applications (subclass 400/600 applications)
Since 23 November 2014, Pakistan and Afghan citizens have been able to lodge visitor visa applications online. Online applications lodged by Pakistan and Afghan citizens who are resident in Pakistan and Afghanistan are processed at the Australian High Commission in Islamabad, Pakistan. This facility allows applicants to lodge applications via the internet and to provide all required supporting documents without the need to lodge paper applications. The types of supporting documents required in support of online applications has not changed and is identical to paper applications lodged at Australian Visa Application Centres in Pakistan. Applicants who chose to lodge online must submit documents listed in the visitor visa checklist and submit them via their IMMIaccount which is created at time of lodgement.
From 1 March 2015, applications that do not include any supporting documentation at the time of lodgement will be decided on the information provided at time of lodgement. In many cases this will lead to the refusal of poorly documented applications. It is a mandatory requirement that all supporting documents are uploaded via a client's IMMI account. Applicants are advised not to provide supporting documents by email or in any other manner to the Australian High Commission as these documents will not be considered when an assessment or decision is made on online lodged applications. Applicants who are refused for not providing sufficient supporting documents will need to reapply with the requested documents.
---
CITIZENSHIP BY DESCENT APPLICATIONS – AFGHAN NATIONALS
From 1 February 2015, Citizenship by Descent applications for Afghan nationals who reside in Pakistan and Afghanistan will be processed at the Australian Consulate-General in Dubai. Applications can be lodged online by creating an ImmiAccount.

For detailed information on Citizenship, including eligibility, document requirements and how to lodge an online application please refer to the Australian Citizenship website.
---
Increase in Partner Visa Application Charge from 1 January 2015
How much is the Visa Application Charge (VAC) now for Partner or Prospective Marriage visas?
The amount will vary based on your circumstances. You can calculate the total cost for your visa using the Visa Pricing Table at http://www.border.gov.au/Trav/Visa/Fees.
What subclasses are affected?
This increase will apply to permanent Partner visa subclasses (subclasses 100 and 801) and the Prospective Marriage Visa (subclass 300).
What if I have already lodged my application?
The new fee will only apply to Partner visa applications lodged on, or after 1 January 2015.This increase will not affect you if you have lodged a valid application prior to 1 January 2015.
What other options are available if I can't afford the increased VAC?
You may consider applying for a visa under the skilled stream, which generally has quicker processing times. Visit the department's website for more information at: www.border.gov.au/work
Why has the cost for Partner visas been increased?
This price increase is part of a range of measures being made by the Australian Government to repair the budget and fund policy priorities.
Can I receive financial assistance to pay the VAC? Can the VAC be waived?
There is no provision to waive, reduce, or pay a Partner or Prospective Marriage visa application charge in instalments. For your application to be valid it is a legislative requirement that the VAC is paid and assessment of your visa application can't commence until payments have been made.
How can I lodge a Partner visa application before 1 January 2015?
You should lodge your Partner visa application online via ImmiAccount as this service will be available over the Christmas/New Year Period. You will also have quicker confirmation that your application has been lodged and you will be able to track the progress of your application online.
---
Online lodgement for Visitor Visas (subclass 600) from 23 November 2014
From 23 November 2014, the Australian Government is providing online access to Pakistani passport holders to apply for a Visitor Visa (visa subclass 600).
Some important information about this lodgement channel is listed below -
Potential applicants are asked to take note that none of the legal or documentary requirements have changed as a result of this ability to lodge through online channels and after lodging online, applicants are required to provide supporting documentation on the attached checklist via their Immiaccount (see below).
Applications without supporting documents may be decided on the basis of the information provided; this will almost certainly lead to refusal of these applications and the Visa Application Charge will not be refunded.
Applications with obviously fraudulent information will be refused and these applicants may be subject to a minimum three year exclusion period. In accordance with DIBP privacy policies this information may be shared with other missions.
Applicants from Pakistan are reminded that they will still be requested to attend an Australian Visa Application Centre to provide their biometrics after lodging the application and that once they choose to lodge online all future document requests must be actioned through their online Immiaccount.
Almost all applicants need to pay a visa application charge, if you are exempt from this charge you should state this in your reasons for travel very clearly or your application will be invalid and will not be considered.
Visit here for futher details on online visa lodgement process.
See: TOURIST (SUBCLASS 600) E-LODGEMENT APPLICATION CHECKLIST
---
New Measures to Mitigate the Risk of Polio Transmission to Australia
To protect the Australian community from public health and safety risks, visa applicants must be free from any disease or condition considered a threat to public health or a danger to the Australian community.
Polio is a highly infectious virus that invades the nervous system.
On 5 May 2014, the World Health Organization declared that the transmission of wild poliovirus is a Public Health Emergency of International Concern and identified 10 countries as being of risk. These countries are Afghanistan, Cameroon, Equatorial Guinea, Ethiopia, Iraq, Israel, Nigeria, Pakistan, Somalia and Syria.
Due to the very high vaccination coverage against polio in Australia, the risk of polio spreading in Australia is considered to be low. It is nevertheless considered appropriate for measures to be put in place that mitigate that risk.
Polio – New measures for visa applicants
If you have spent a period of 28 days or longer on after 5 May 2014 in Afghanistan, Cameroon, Equatorial Guinea, Ethiopia, Iraq, Israel, Nigeria, Pakistan, Somalia or Syria, or any combination of these countries, you should provide your polio vaccination certificate. If you are lodging a new application, this should be provided at the time you apply.
Applicants attending a medical appointment with a panel physician should bring their vaccination certificate to the medical appointment.
If you do not provide the vaccination certificate at the time you apply, or at the time you undertake your medical appointment, the Department may request you obtain a certificate separately and this could delay your application.
These measures do not apply to the following visa applications:
• Resident Return visas – Subclasses 155, 157 and 159
• Privileges and Immunities Stream - Temporary work – Subclass 403
• Special Purpose visa – Subclass 444
• Transit – Subclass 771
• Maritime Crew – Subclass 988
• Diplomatic – Subclass 995
• Declaratory – Subclass 998
For more information on polio, see the Australian Department of Health website.
For further immigration about the migration health requirement, including the requirement for evidence of polio vaccinations, see: http://www.immi.gov.au/allforms/health-requirements/
Information on Local Arrangements
Being a signatory to International Health Regulations (IHR), the Pakistani government has issued a directive that all international travellers are required to carry polio certification before boarding an international flight. It is mandatory for any individual spending a month or more in Pakistan.
People traveling out of Pakistan can obtain the vaccination and certificate from any major public hospital at city, district and provincial level as well as from DHO offices. In cases where there is a medical reason for not being vaccinated, the designated physician will record the reason on the vaccination certificate.
Additional information regarding the vaccination includes:
i) The polio certificate must be signed by a designated senior hospital official.
ii) The polio vaccination and certificate will be valid for one year.
iii) Any person who has planned their trip earlier can be vaccinated four weeks before the date of travelling.
iv) For further information, travellers are advised to visit their local hospital.
---
Fraudulent Email in Circulation – Family Resettlement Program
The Australian High Commission is aware of a fraudulent e-mail being distributed within Afghanistan and Pakistan claiming that the recipient has been selected for the Australian Government 'Family Resettlement Program'.
This e-mail is not genuine and it is recommended that people not respond to the e-mail and do not send any personal information.
Visa scams
The Department of Immigration and Border Protection has recently become aware of scam emails being sent from email addresses ending in '.pn' and claiming to be from the department or another Australian Government agency. We have not sent these emails and these are not genuine departmental email addresses.
An example scam email address is 'immi@govt.au.pn'
The scam uses multiple email addresses, but the common feature is the '.pn' ending. Also be cautious of job offers that instruct you to contact the department through an email address that ends in '.pn'. Our genuine email addresses do not end in '.pn'.
The scam will direct you to pay through a Western Union money transfer. We will not ask for a payment directly to the department through Western Union. Also be aware that we do not offer a 'resettlement programme' through unsolicited emails or an 'electronic ballot'.
For more information on how to identify this scam, see migration related scams
For more information on email and internet scams, see email and internet scams
For more information on migration fraud, and how to protect yourself from it, see migration fraud
---
Operation Sovereign Borders
Key messages
The Australian Government has introduced its toughest border protection measures ever called Operation Sovereign Borders (OSB).
Under the policy, anyone who comes to Australia illegally by boat without a visa will never be settled in Australia.
The policy applies to everyone: families, children, unaccompanied children, educated and skilled. There are no exceptions to this policy.
The Australian Government's policy is intended to deter people smugglers by denying them a product to sell and prevent tragic deaths at sea.
There are two options for people who travel illegally by boat to Australia:
- they will be intercepted and safely removed from Australian waters; or
- they will be sent to another country for offshore processing.
Processing and resettlement in Australia will never be an option.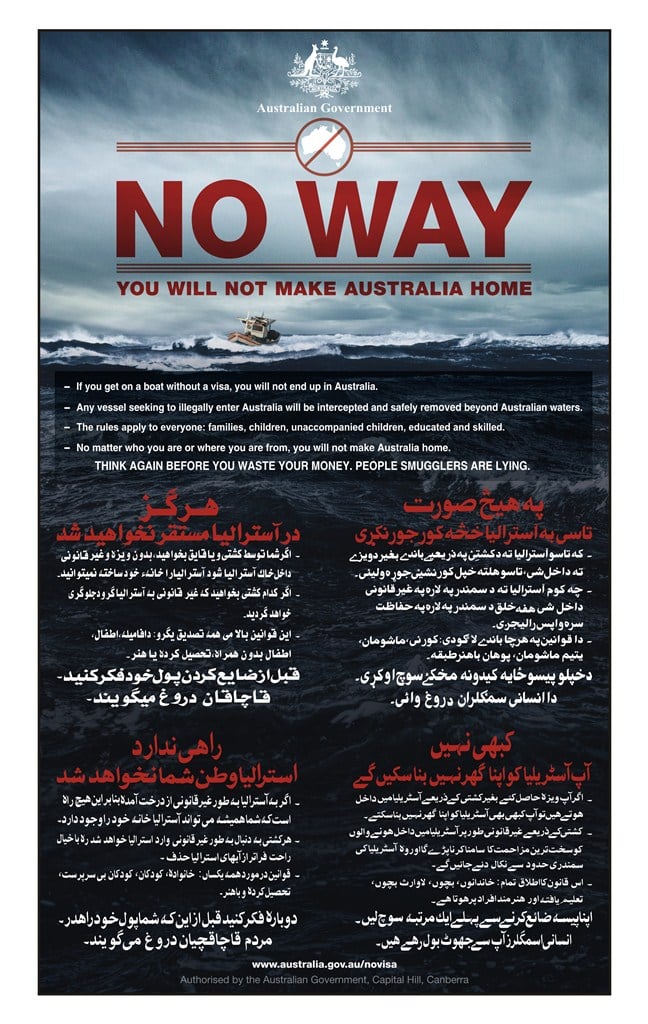 ---
Introduction of Service Fees
From 1 July 2014, the Department of Immigration and Border Protection is moving to a full user-pays model at all biometric Australian Visa Application Centres. This means that the Service Delivery Partner will charge clients a service fee for visa application lodgement and biometric collection. This is in addition to visa application charges.
See: Service Delivery Partner Flyer for the Service Fee charges
---
From 1 June 2014, the contact numbers for the Australian Visa Application Centre (AVAC) have changed. The new contact details of the AVAC are:
Landline: 0900 07860
Mobile: 9999 (the mobile short code number is temporarily unavailable to Zong, Warid and Telenor users)
Operating hours: Monday – Friday 0800 to 1700
If you would like to provide any feedback on the quality of our telephone services, please submit your feedback by email to immigration.islamabad@dfat.gov.au - please list the subject line of your email as "AVAC telephone service".
---
Online lodgement for Visitor visas (subclass 600) from 9 May 2014
From 9 May 2014, the Australian Government is providing online access to nationals of Afghanistan to apply for a Visitor Visa (visa subclass 600).
The online visa lodgement system is available to applicants at their convenience, seven days a week, without the need to apply in person or send in application forms by mail. Applications can be made at www.border.gov.au (See: Online Services).
To start an application, you will first need to create your own online account, known as ImmiAccount. ImmiAccount lets you create and manage all your online visa applications in one place. You can use your account to:
• lodge and pay for your visa application
• continue a saved application
• attach documents if required, and
• check the progress of your application.
Please note that you will need access to a credit card to pay for an online application. A third party may complete an online application on your behalf with your consent.
If your visa is granted, you will not require a visa label in your passport, as your visa details will be stored electronically. You can check your visa conditions before you travel to Australia using the Visa Entitlement Verification Online (VEVO) system.
See: Visa Entitlement Verification Online (VEVO)
For more information about online visas and which nationalities are eligible to make online applications,
See: Apply for a Visa or Citizenship online
Note: If you do not have access to the internet, you can still make a paper visa application. If the applicant is outside Pakistan (eg. in Afghanistan) the application should be sent by courier to the Australian High Commission, Islamabad to the address below.
Immigration and Citizenship Section
Australian High Commission
Constitution Avenue & Ispahani Road
Diplomatic Enclave No. 1
Sector G-5/4
ISLAMABAD – PAKISTAN
---
General Information
Visa Wizard: a tool to assist in finding suitable visa options
Citizenship Wizard: a tool to assist in finding suitable citizenship options
Client Service Charter: an important document that sets out what you need to know when dealing with us
Compliments and Complaints: explains how compliments, complaints or suggestions about our services can be made
Making an Application
Visa Types
Temporary Visas
Migration Visas
Skilled, Business and Employer Sponsored
Refugee and Global Special Humanitarian Programs
Refugee & Global Special Humanitarian Visas
Returning Residents
Australian Citizenship and Citizenship by Descent
Australian citizenship and citizenship by descent

Evidencing Visas
Label-free Travel and Visa Evidencing